Thank you so much for your prompt service! I called, and you showed up within two days. After only one application.
Mrs. Fontana
Request a Quote
View Gallery
Healthy Lawn Care Program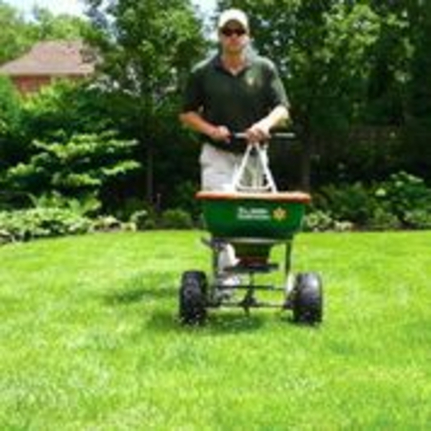 Marshall Landscape's Healthy lawn care program encompasses a process of educating our customers about cultural practices such as cutting heights, water conservation, the use of slow release fertilizers and soil nutrient testing. We use Lake Safe, zero phosphorus, and slow release fertilizers in our fertilization programs. We also offer organic fertilization programs that utilize 100% organic fertilizer that does not contain any synthetic chemicals. Marshall Landscape's pesticide programs include the following options, pesticide free programs, spot treatment programs or in some cases, we need to make a onetime blanket application to bring the undesirable weeds or insects into check.
The following program is our recommendation,we will customize any of our programs to fit your individual budget or needs
Spring Application
A balanced fertilizer with non-staining crabgrass preventive
Early Summer Application
A custom blend of a 0 phosphorus, slow release fertilizer along with weed and controls were needed.
Summer Application
During the hot stressful days of summer we apply slow release low nitrogen, phosphorus free fertilizer along with spot weed control,we also offer insect applications based on your individual lawns needs.
Late Summer
This application is comprised of the same custom blended fertilizer as our summer application and at this time of the year helps your turf recover from the harsh summer heat and helps to reduce the number of pesky weeds and insects.
Early Fall
The cooler temperatures of the fall allow us to apply a heavy application of phosphorus free, slow release nitrogen fertilizer, which provides your lawn a deeper green color and improves the health and density during this time of the year. This is also the best time to apply weed control, weeds are ready to over winter and begin to store carbohydrates in their root systems, by applying herbicide this time of the year in most cases we can lessen the number of weeds that will be present the next spring.
Late Fall Winterizer
This Time of the year we apply a quick-release fertilizer that your lawn will store in its root system. The stored carbohydrates from the late fall application will provide a faster green up in the spring.
All of our applications are not considered complete until all of the hard surfaces such as sidewalks and driveways are blown off .
Marshall Landscape's goal is to educate our customers about environmentally friendly lawn care, at the same time providing them with top-notch service that treats the environment with respect
< Back